On Saturday 27th June around 60 runners got together in Lewa, a UNESCO World Heritage Site,  to complete a half marathon.  Unfortunately, the annual Lewa Safari marathon had to be cancelled for the second time due to covid but it was able to continue virtually.  We were supported by around 1,400 people running the virtual Lewa Safari Maraton across 20 different countries. 
The marathon is an important fundraiser for Tusk Trust and Lewa Wildlife Conservancy to help them continue their work in conservation and community development. Since the first Lewa Safari Marathon in 2000, the event has raised over $7.5m for projects across Kenya. including supporting schools, conservation projects, clinics and community programs.  
On the morning of the event, we started with a group warm-up at 7 am and then was briefed before the event started at around 7:30.  I had my headphones in, my watch set to track and was set for running at a steady (slow) pace. However, I was clearly surrounded by athletes who were taking this quite seriously! Kenya is known for its long-distance runners, some of the best athletes in the world are Kenya runners and the raw talent was obvious on the day of the event. 
On your marks, get set, go and they were off at a blistering speed, Within 200 yards there was already a significant distance between me and the lead runners. My strategy was simple; don't be last. I knew I was going to lose momentum and speed and so I had to try and keep a 'middle of the pack' status as I am definitely not one of those people who can come through at the end and catch up. I got to the middle and my task was to stay there. Of course, this was by no means a race,  but I am after all a PE teacher and so competition is in my blood. The fact that the furthest that I had run in preparation was 10k the weekend before was definitely not going to be in my favour. I had no doubt that this was going to be a tough event, but the fact that it combines running (something I, to be honest, hate) with safari, one of my favourite things in the world, made it bearable. Also, the challenge and being a part of something bigger did give me the reason I needed to carry on. Trust me it was particularly difficult to continue at around the 15k mark, where the supporters had set up a tea and coffee station under an acacia tree. It took all of my strength not to pull up a chair and have a cuppa with them and cheer on the rest of the runners. The other thing I found hard (this will come as no surprise to anyone who knows me well) was resisting the food available. At each water station, the rangers were also handing out fruit. Having never run 21k before I didn't really know if I would need the fruit or not, but I figured if they were handing it out then it must be a good idea. At the first water station at about 7km in I had a small banana which seemed to help. At the next water station, they had bananas and orange slices so I grabbed some orange slices that were thrust in my direction. This turned out to be a mistake, I then had to run through a stitch for the next 2km or so which was not very pleasant. You would have thought this would have taught me a lesson, and yet, at the next water station, I went for watermelon and suffered the same fate. Bearing in mind in the grand scheme of things I wasn't really running for that long (2hours 31) I  didn't really need to eat anything, at least now I know for the next half marathon I attempt!  I am sure. the 'winner' of the event certainly didn't gorge on all the fruit on his way around as he was only running for 1 hour 15 minutes before he crossed the finish line with a big smile on his face and not a bead of sweat on him!
http://www.facebook.com/LewaWildlifeConservancy/videos/333294211706464
Over an hour later I stumbled across the line, feet battered and blistered, legs feeling like lead but happy to be finally at the end! I finally got my cuppa as I was greeted at the finish line with Chai Mazwa and Mandazi (a Kenyan doughnut). I'm going to blame the 5,500ft above sea level altitude and nearly 30-degree heat for my slow pace. I was very impressed with Charl, he has been training prior to the event, which in itself was impressive given his very busy work schedule, and the training had obviously paid off. He could have easily run off and left me, he had a lot more energy left in him than me, but he stuck around so we were able to cross the finish line together. 
It was a privilege to be able to run in such a wild place, Lewa is home to more than 70 different animal species and over 400 species of birds. Lewa has one of the highest densities of wildlife in Kenya, including 12% of the countries critically endangered black and white rhino, and the world's largest population of Grevy's Zebra.  https://www.lewasafarimarathon.com/about-2021/. At the start of the run we ran past, a little disgruntled, black rhino called Sonja and her calf: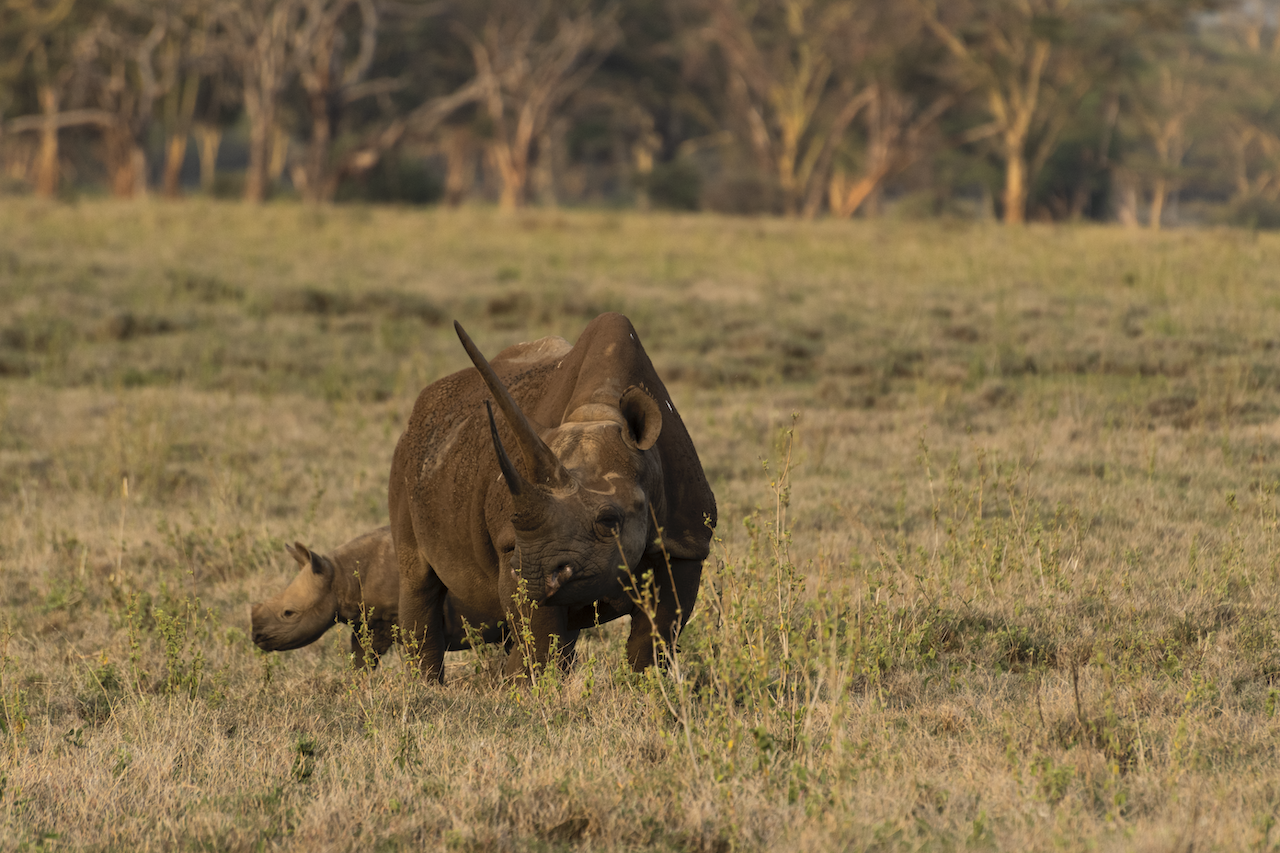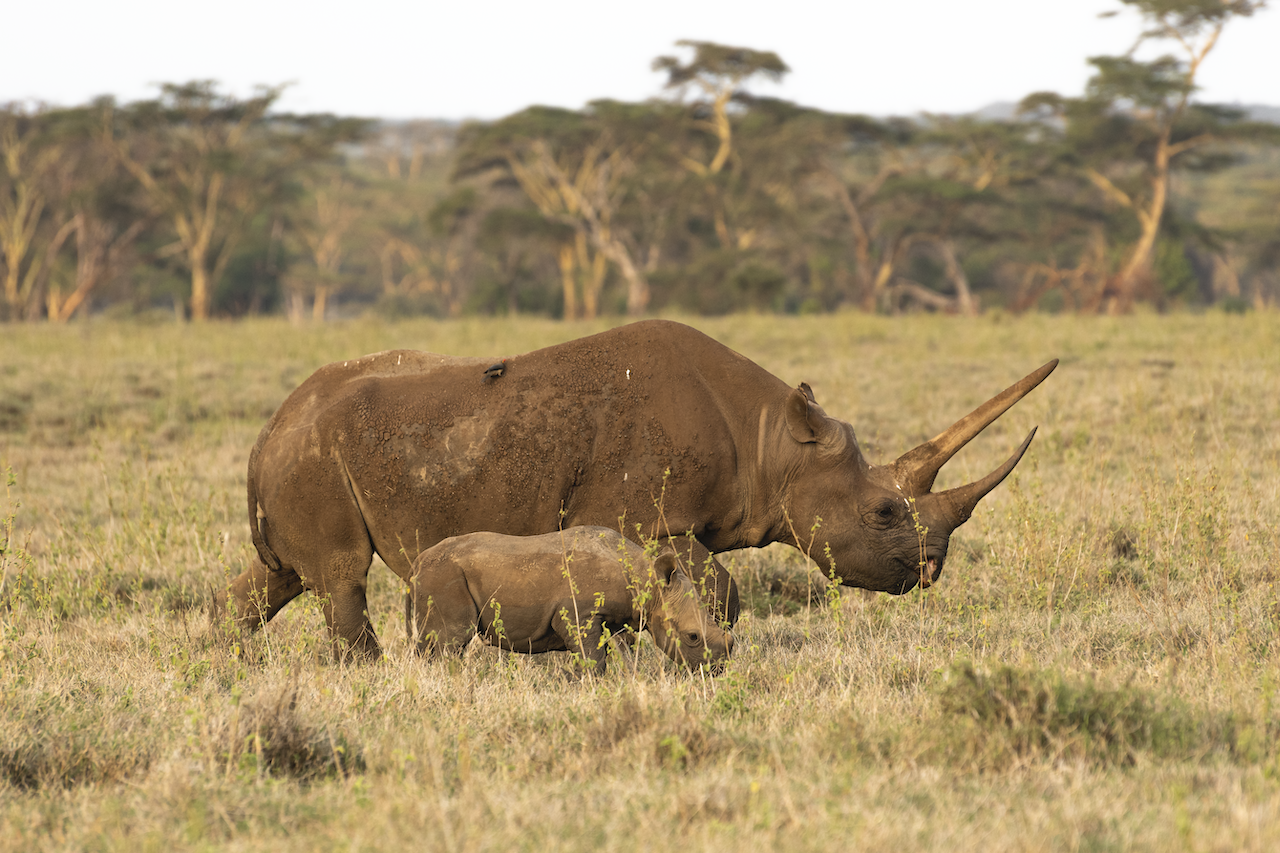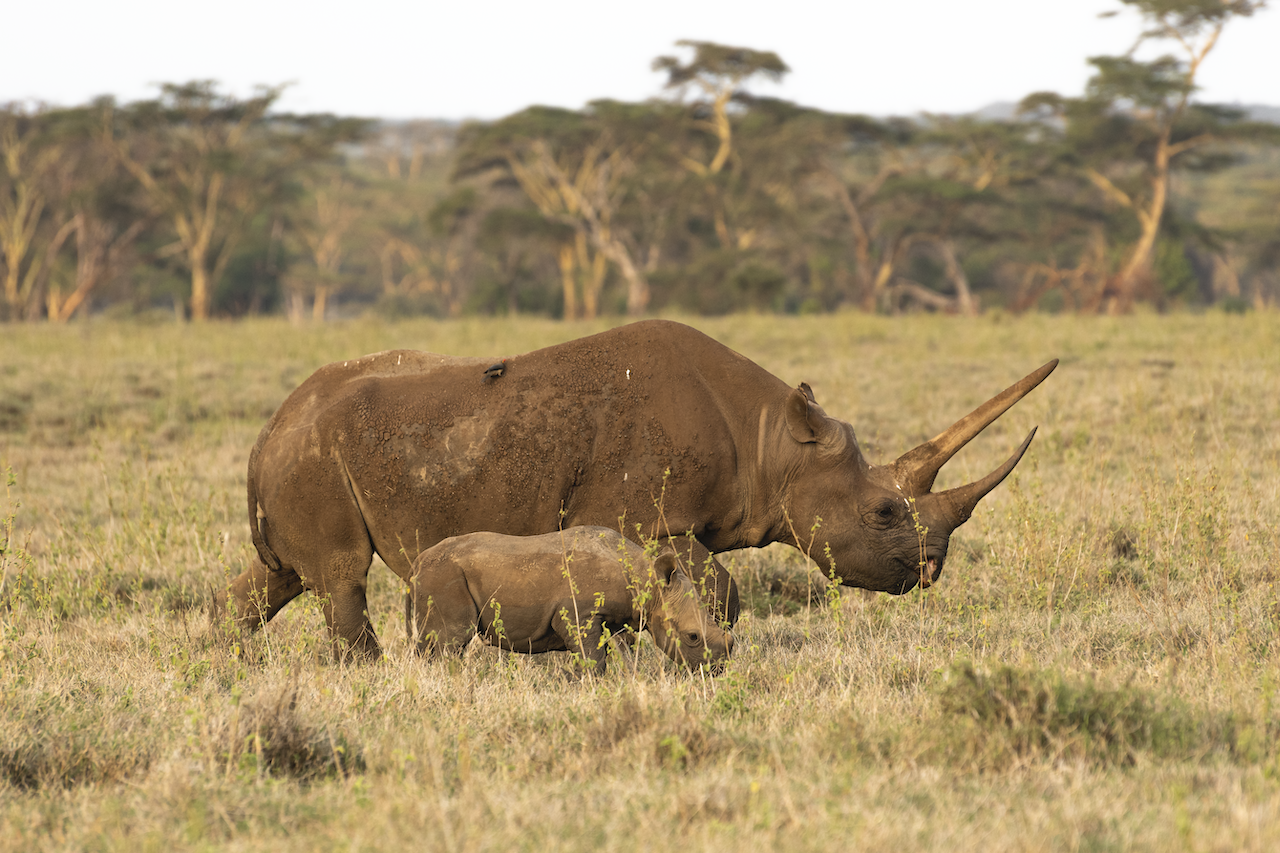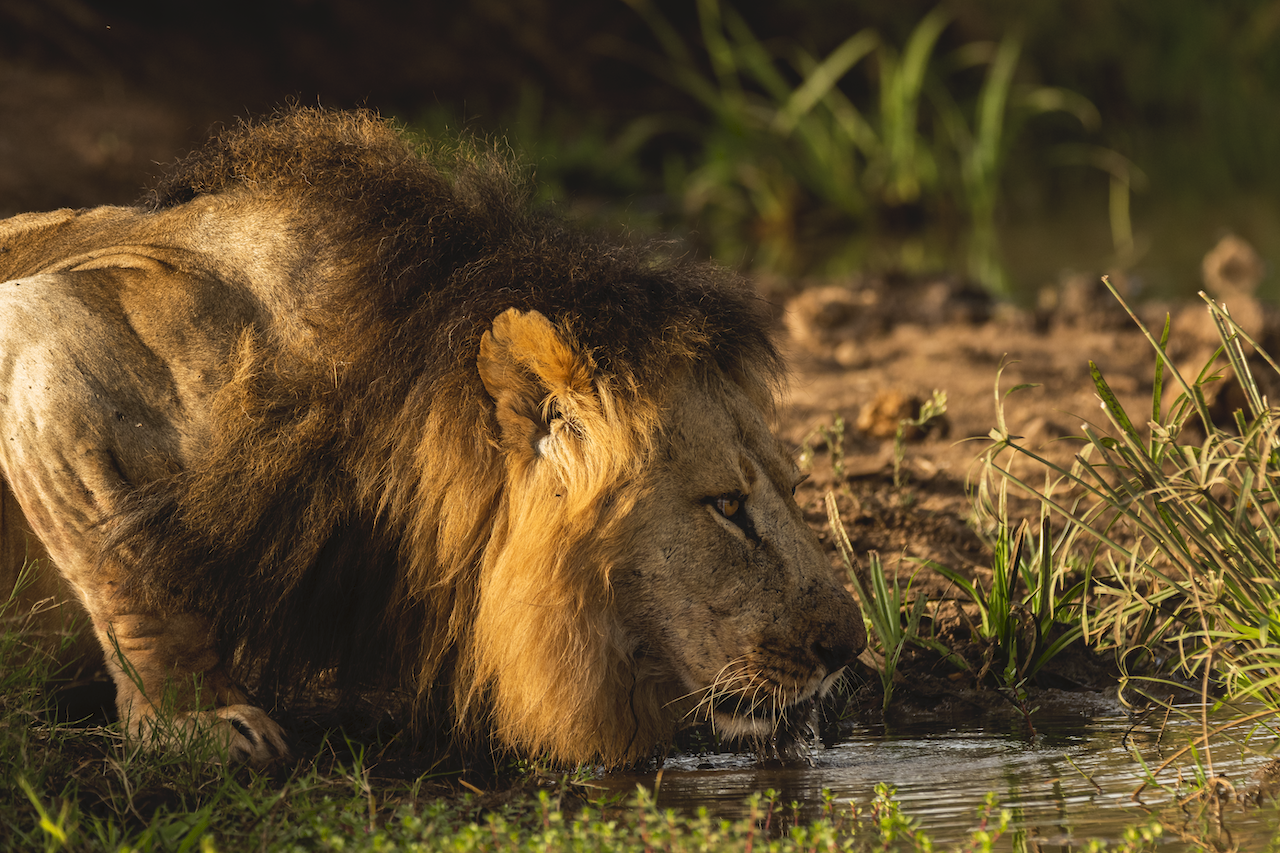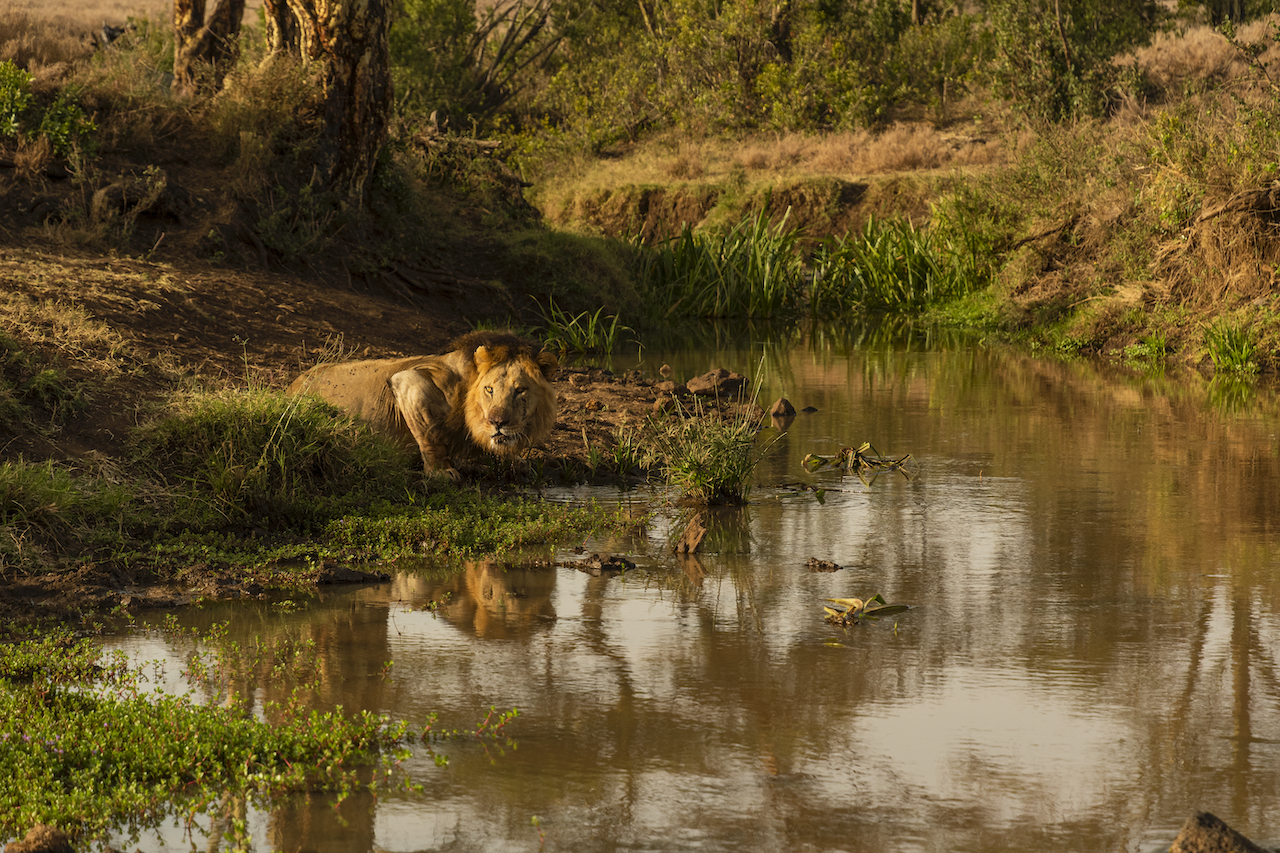 We also ran/stumbled past Giraffe, Elephants, and notoriously dangerous Buffalo. Having been on many games drives through the area in the month prior to the event I had been lucky enough to see a variety of wildlife including Rhino, Elephant, Giraffe, Buffalo and of course predators. Just the night before the event I had been on an evening game drive by the swamp area and we had seen a pride of 9 lions setting out for an evening hunt. It was difficult not to think about this as I was running through the swamp area the next morning. I just hoped that they had had a successful hunt the night before and were still too full to bother eating me too. We also ran past the river where a couple of days prior I took this photo of a large male lion quenching his thirst: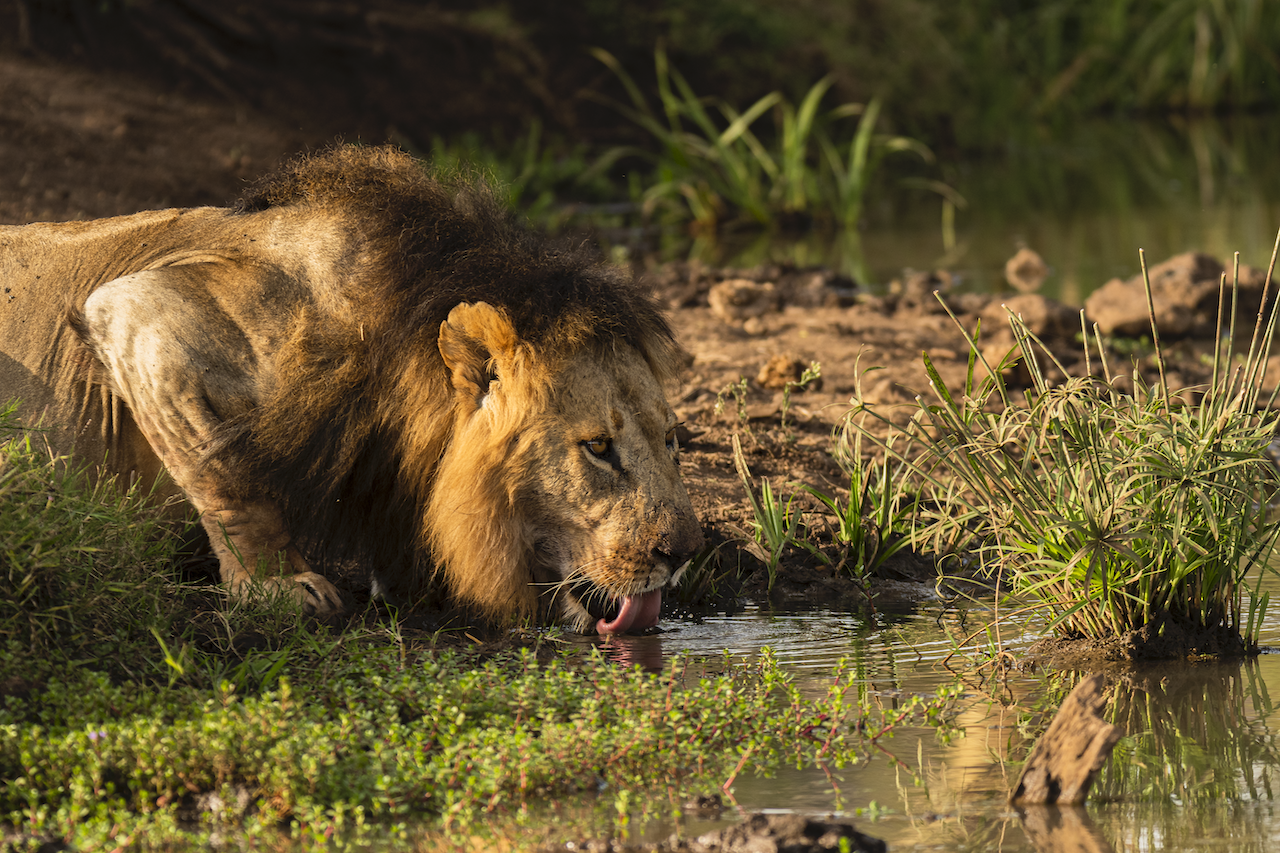 There is of course no logic to only thinking about there being lions in places where I had previously seen them, as of course, the reality is they could have been anywhere.  Although the fact remains that the wildlife is equally as scared of us. With such an unusual and large presence of people in the area, a lot of the wildlife moves off to give us space and returns when things have gone back to normal. There were of course also rangers and scouts keeping an eye out for danger along the course so we weren't really in any danger. Overall the day was a great success and I hope that next year we will be able to do the same again but with participants from all over the world and hopefully after a bit more training.
Update: This years event raised over $350,000, all funds will assist with the recovery from the challenges COVID-19 has bought on wildlife and local communities in Kenya.